Our sustainable cashmere
Out of all materials used in the fashion industry, cashmere has one of the highest environmental impact (roughly 100 times more than wool). The over exploitation of cashmere worldwide reminds me of salmon, an exclusive good which became a mass product at the expense of quality. Today 65% of Mongolia's grasslands have been degraded due to overgrazing by cashmere goats. The Gobi desert has been expanding at an alarming rate which led to negative environmental impacts especially in the North of China and Mongolia.
We decided to develop two collections of scarves. The first one is made of recycled cashmere. The second collection is a very limited edition made with exclusive cashmere from highly sustainable farms.
THE RECYCLED CASHMERE COLLECTION
The collection is made in a Florentine workshop specialized in cashmere recycling. The workshop carries out all the steps that make it possible to transform second-hand sweaters and socks into scarves. Vintage cashmere clothes are sorted by color and each cloth is taken apart in order to keep the 100% cashmere parts. Then we create the yarns and weave our scarves.
Our recycled cashmere scarves have a graphic striped pattern that will suit most of your outfits. The scarves are made in a very long format (200 cm x 35 cm / 80 x 14 inches) to tie many different knots.
Video cinabre : nos ateliers
THE SUSTAINABLE CASHMERE STOLES
Our limited edition stoles are made from a very soft and luxurious cashmere. This cashmere comes from highly selective farms that offers wool traceability. The wool is selected from flocks of 200 to 500 goats. The flocks evolve in very large areas in order to have very few goats per square meter, which avoids intensive use of Mongolian soils. These farms guarantee a small production of unequalled quality. Only 150 grams of cashmere are collected from each goat before being thoroughly washed and woven in a workshop that has been running for three generations.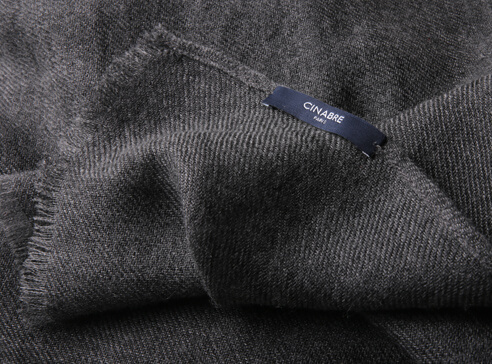 Our cashmere scarves are available in several colors and in two sizes. The first scarf has a large format of 210 cm x 70 cm (82 x 28 inches). The cashmere stole has a giant format of 210 cm x 140 cm (82 x 55 inches). It is the stole of our dream, designed to last a lifetime...